Otay...
Well I guess this finally proves what others have been saying about me for years. And here I always thought that I was normal to a certain extent. But I guess that theory just got thrown out the window. But meh. I guess life goes on and I am just going to have to accept it that way.
Take the quiz:
"How weird are you? !!PiX!!"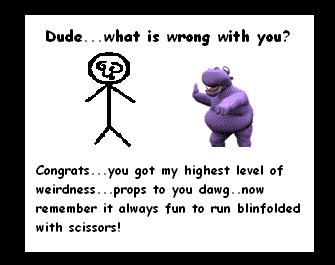 Dude...what wrong with you?
Congrats...you got my highest level of weirdness...props to you dawg..now remember it always fun to run blinfolded with scissors!
GERALDINE! GET YER ARSE OUT OF DEVINAH'S MOTHERBOARD! GRRRRR! Curses...(!)