Hmmm...sounds about right?!
Take the quiz:
"WHAT RELIGION BESTS SUITS YOU?"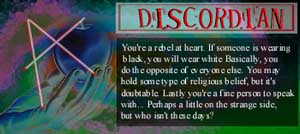 Discordian
You're a rebel at heart. If someone is wearing black, you will wear white. Basically, you do the opposite of every one else. You may hold some type of religious belief, but it's doubtable. Lastly, you're a fine person to speak with... Perhaps a little on the strange site, but who isn't these days?
Ok...sounds good to me I guess?! Teheheheheeee...Praise Eris! And Horis and the Atan...speaks in libs...Don't eat Yellow Snow....Such divine Wisdome! OooooOOOOooo!